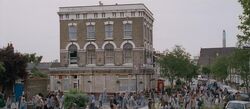 "I just don't want to sit here every night for the rest of my life like these sad old fuckers drinking myself to death and wondering what the hell happened."
The Winchester Tavern is a pub in London. It is very prominent in Shaun of the Dead. It is the favourite pub of Shaun and Ed. Owned by John and Bernie, the Winchester is the refuge place of Shaun, Ed, Barbara, Liz, David and Diane during Z-Day.
In reality, the pub was known as The Duke of Albany and is located on Monson Road in New Cross. It was converted into luxury flats in 2007.
Ad blocker interference detected!
Wikia is a free-to-use site that makes money from advertising. We have a modified experience for viewers using ad blockers

Wikia is not accessible if you've made further modifications. Remove the custom ad blocker rule(s) and the page will load as expected.