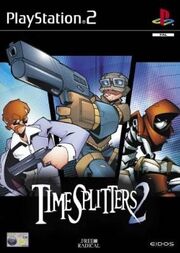 In the Film
TimeSplitters 2 is Ed's favourite video game. He is often seen playing it in the film Shaun of the Dead. The game was perhaps chosen to appear in the film due to the presence of various forms of zombies within the game.
In Real Life
TimeSplitters 2 is a first-person shooter video game available for the PlayStation 2, Xbox, and Nintendo GameCube game consoles that is the sequel to TimeSplitters. The game was published by Eidos and developed by Free Radical Design, a company founded by some ex-Rare members. The game was first released in October 2002 in North America and Europe, and later in Japan.
The game features a single-player mode consisting of ten levels in which the player assumes the role of one of two space marines as they attempt to stop the alien race of TimeSplitters from ruining history by collecting the time crystals in various time periods, ranging from the Wild West to the 25th century. It has several multiplayer modes.